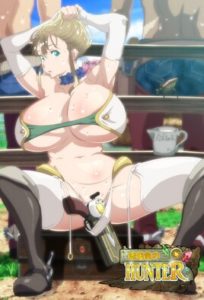 Visual novel sex-filled Kohakuiro no Hunter shared a PV of its accompanying ero-anime, with action and monster-slaying taking up a big portion of the video and also teasing some of the sex, but just enough for watchers to determine whether or not they want to behold the entire episode.
The PV is bustling with both combat and sex and also shows the quality of the art and animation, which is slightly better than most current day ero-anime.
Watch Kohakuiro no Hunter The Animation – Episode 1 online with english subtitles.
Watch the best hentai series online english subbed and in high quality. All episodes are in 720p and 1080p quality (HD and Full HD). You can download hentai via download button from inside the video player. We recommend you the following hentai tags: loli hentai (lolicon), fantasy hentai, milf hentai, public sex hentai, school girl hentai, uncensored hentai and yuri hentai. Just type the tag in the search to view our vast hentai collection for each tag. Please enjoy yourselves! WATCH