!Note:
Please follow these steps if a video is not loading:
- refresh the page and hit the play button again
- disable adblock, it might block the video script
- try a different browser, the browser needs to be compatible with HTML5 videos
- try to download and use the internal video player
- sometimes it might take a bit longer for the videos to load due to the high amount of people trying to watch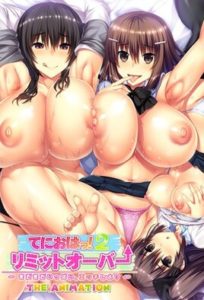 Studio "Pink Pineapple" announced the continuation of the film adaptation of the visual novel " Tenioha! 2 ~Nee, Motto Ecchi na Koto Ippai Shiyo?~ "from the rootnuko+H Studio under the not-so-clever title" Tenioha! 2: Limit Over – Mada Mada Ippai, Ecchi Shiyo? The Animation. The release date is scheduled for the end of April 2020. It was directed by Oota Hideta (Koi Maguwai, Ikoku na Retro, Amanee!). In 2013, an anime adaptation of the first part of the game "Tenioha! Onna no Ko datte Honto wa Ecchi Da yo?".
Hentai continues to tell about the daily student life of the main character and his three inseparable friends " sisters":
Hinata Yutsuki-a student of the first Kura and an unsurpassed beauty who has no equal in the Academy.
Ayumi Serizawa is a classmate and friend of the main character. Very kind and friendly girl.
Ayane Takai is a senior student who is the sex symbol of the Academy.
Watch Tenioha! 2: Nee, Motto Ecchi na Koto Ippai Shiyo? – Episode 1 online with english subtitles.
Watch the best hentai series online english subbed and in high quality. All episodes are in 720p and 1080p quality (HD and Full HD). You can download hentai via download button from inside the video player. We recommend you the following hentai tags: loli hentai (lolicon), fantasy hentai, milf hentai, public sex hentai, school girl hentai, uncensored hentai and yuri hentai. Just type the tag in the search to view our vast hentai collection for each tag. Please enjoy yourselves! WATCH