You are now reading Mankitsu Happening [Review] online on HentaiWorld.TV
Mankitsu Happening is a bit odd. It revolves around the escapades of Keiichi Oyamada. The protagonist has the unfortunate ability to get himself in compromising situations with every woman he meets. This mysterious, and frankly perverse power, keeps him from retaining a stable job. Each new place he gets hired, he mysteriously lands up in compromising situations that end with him being fired.
Down and out on his luck, Keiichi is offered a job by his best friend at a manga cafe. After reluctantly accepting the opportunity, Keiichi finds himself in a completely unexpected situation. He meets Rei Suzukawa, a fellow employee, and Kururu Hiiragi, a childhood friend. He fears that even these two women will be sucked in by his mysterious perverted power.
General Overview
Mankitsu Happening is an original video animation that aired in 2015. It has finished airing and can now be found on several different online platforms and in physical DVD form. All four episodes garnered great responses making this a popular while still unique show.
The show was produced in Japanese and later dubbed into English. Collaboration Works produced the show based on a visual novel created by Waffle. The episodes themselves are approximately thirty minutes each and have been praised for their animation style and production quality.
Review
Mankitsu Happening is one of those hentai shows that is an all-rounder. Like all anime, it has a slightly bizarre plot that can be unbelievable at times but manages to stimulate the viewer in more ways than one. It's a high-quality product that is applauded for its efforts.
The show is met with a lot of positivity despite the odd plot. Unlike a lot of other shows, Mankitsu Happening is more realistic. It's fun to watch the characters tackle the many odd scenarios they are pushed into.
The highlight of the show is comedy. When translated, the title of the show literally means Comedic Happenings, which should be a good indicator of how many times you'll find yourself stopping to laugh.
The comedic bits are complemented with subtle background music. The music amplifies any feelings of suspense, laughter, and excitement in the scene. It is a masterful use of music without being too distracting from the show itself. Along with the music is the incredible voice acting of the cast.
While the plot is bizarre, the characters are mostly one-dimensional. They don't seem to possess many personality traits in the beginning but do change as new events occur. With each mistake Keiichi makes, there is something to laugh at and something to marvel at. As you're busy marveling at the scene, you forget that the characters are flat.
Mankitsu Happening is also an artistic marvel. The quality of the series is a testament to Collaboration Works' standard. The well-animated scenes coupled with great voice acting will have you hooked from episode 1!
The show can only be described as silly. As comedic and silly as Mankitsu Happening is, it is still a good watch with enough action and plot to keep you entertained and eager to watch more.
Is It For You?
The four-episode series can easily be finished in a couple of hours. The plot is easy to follow and silly, with a focus on comedy rather than violence of any kind. If you're looking for something light-hearted and easy to watch then, Mankitsu Happening will be a great watch!
The hentai is unique in that it has none of the usual tropes of violence, rape, or any hardcore scenes. It is a lot more focused on comedy and is easily one of the funnier hentai shows that have come out recently. If you're not looking for a show without hardcore themes, Mankitsu Happening may not be satisfying for you.
Mankitsu Happening is mainly for those just looking for something fun, quick, and silly. It's not gripping but keeps you hooked enough to watch the series till the end. If this is what you're on the lookout for, you've got the perfect show!
Endnotes
It isn't every day that you come across light-hearted, vanilla hentai that is genuinely pleasant to watch. Mankitsu Happening makes it seem like it is possible. While not the most complex or mind-blowing plot, the show manages to keep you hooked to the silliness of the characters and situations.
The comedy, along with the brilliant production quality, will leave you stunned and satisfied. The chances of you returning to watch it for some quick fun are rather high.
While not the best hentai in the world, Mankitsu Happening makes its mark on anybody who watches it. You'll leave satisfied either way!
You are currently reading Mankitsu Happening [Review] online on HentaiWorld.TV. 200942 people visited this review.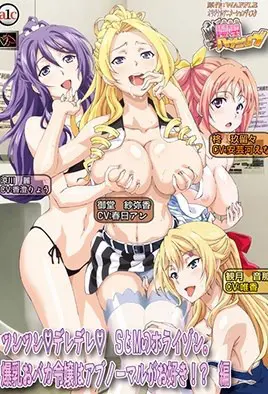 Review Author: Not available
Animation Score: 9.9
Characters Score: Not available
Plot Score: 6
Enjoyment Score: 9.8